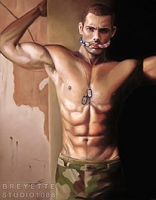 This co-authored short story was inspired by Michael Breyette's painting Don't Ask Don't Tell, and was submitted to his plea for stories about his paintings. A long time in the making, the anthology has now been published in August 2010 by MLR Press.
Michael wrote about his book project: "Since artists are often called upon to turn prose into a visual for such things as book covers, I wondered, would writers be able to pick up the creative torch and run in the opposite direction? I had little doubts they could and it got me excited wondering what they would come up with for my own pastel paintings. So with that it mind I though it would be fun to launch a contest and invite friends, fans of my art, amateur scribes, professionals writers, really anyone who wanted, to pick a painting from my body of work and build a short story around it. As the saying goes, a picture is worth a thousand words. I wanted to find out if that was true."
Don't Ask Don't Tell is a story is about a chance encounter by a British liaison officer and a US corporal, and the hour they share despite Don't Ask Don't Tell.
Short Excerpt from "Don't Ask Don't Tell" © Marquesate & Aleksandr Voinov 2008
"I know." Rich moved across Scott's throat, up the chin, soft flesh, thin skin, and his tongue and teeth reduced Scott to a whimper. Back once more along the other side, while all the time keeping his hold of Scott's wrists. "No different."
Murmured, once Rich had reached one ear, tongue exploring along and behind, the shaved hair raspy, and the faint scent of fresh sweat in their nostrils.
He suddenly crushed their hips together again, whispering, "I want you to trust me. For this one hour."
| | |
| --- | --- |
| | Reviews of Don't Ask Don't Tell |